Pest control
If you are a pest control specialist or run a pest control business, you know that the saying 'time is money' is the truth: your clients always need you urgently. And can you blame them? Who likes rats, rodents and roaches running around in their house? Therefore, the clients pressuring you to get an appointment as soon as possible, could get overwhelming. After all, you have a lot of things to do besides answering their calls. Maybe you have specific hours when you pay more attention to the phone, maybe you just let them go to voicemail and then call them back when you can.
This is a bad practice. Studies show that more than half of the customers in the 'emergency type' industry hate leaving voicemails and also are not likely to call back again if they're not answered by a business in an efficient manner. Which is a pity: each call is a business opportunity and if you want to grow your business fast and establish yourself as a trustworthy, responsible and professional brand on the market, you need someone on the phone 24/7. One person may not be enough: What if another call comes in and they have to wait in line? But you can't hire two, three or more people. That's expensive. Besides, what about those days when you barely get any calls? If you have several employees sitting at their desks doing nothing, you're washing money down the drain.  This is why outsourcing your calls to our call center service is the best way to handle the situation.
You need our call center services if:
You want your calls answered in efficient, professional and effective manner
You're often busy on the job site and don't have the time to answer the calls
You want your calls answered 24/7, even on holidays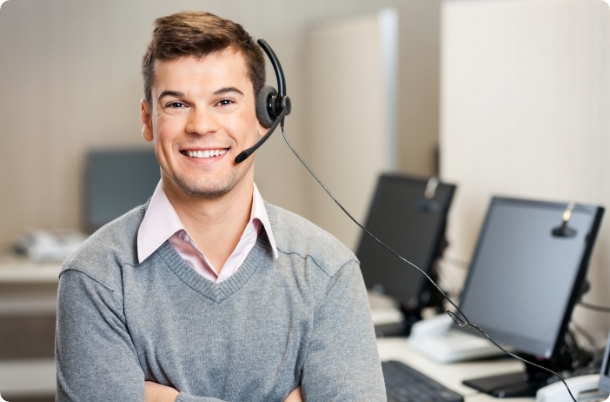 With DsPro, you will
Offer the best possible call center service for your business:
You can choose the service package best suited for your needs:
1) have your own office and team, that can be trained to work the way you need to, providing customers the answer, prices, questions you require.
2) Pay on per call basis, only if you get a valid call (We don't charge for spam calls!).
Gain a deeper understanding of your clientele and their needs
With DsPro's team of professionals, you will always be up to date with your clients' needs.
Our professional and experienced call center operators will find the best way to approach the case, so that you leave no client unsatisfied. We will send you regular reports of all your calls, which will help you plan ahead and make an educated guess as to how much business you're likely to get in upcoming weeks or months. Based on our reports, you will know when you need to invest in more equipment or hire more employees, to grow your business faster.