Electricians
As an Electrician, missing out on a customer call would be pulling a plug on a great opportunity. But your job is hectic and your work requires all your focus.
Your day is always filled with on site or off site duties. All this, plus answering your own calls constantly, while maintaining a professional and focused attitude towards every single customer can get exhausting. Luckily, it doesn't have to be that way: Instead of putting yourself or your employees under the intense pressure of doing all of their tasks at the same time, you could partner with DsPro to receive the best call center services on the market.
You need our call center services if:
You're often busy on the job site and don't have the time to answer the calls
You want your calls answered in efficient, professional and effective manner
You want your calls answered 24/7, even on holidays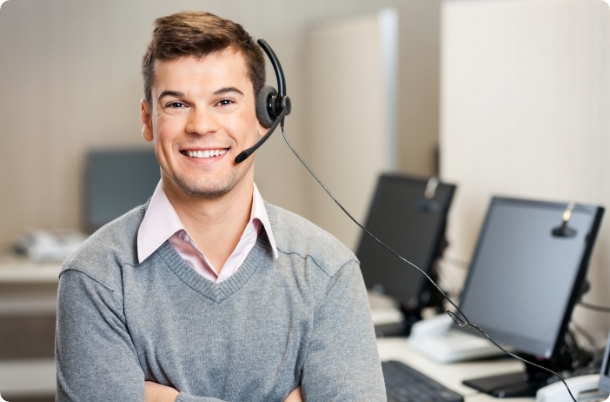 What we do
At DsPro, we understand that every business is different and has its specific needs. DsPro's dispatchers always know the best way to approach your cases and provide your customers with polite, efficient and informative service. We know that every business has a different method of approaching the cases. With us, you call the shots! Tell us what information you need from your client and what our operator should do after receiving it. We provide a dedicated team for you, to guarantee you peace of mind!
Why choose us:
When you partner with us, you will get unique benefits that will alleviate your electrician service business to another level that your competition just won't live up to! We will provide you with a dedicated team, working for 24 hours a day, 7 days a week, including holidays, to establish a professional, dependable image for your company.
With DsPro, you will:
Offer the best possible call center service for your business:
You can choose the service package best suited for your needs:
1) have your own office and team, that can be trained to work the way you need to, providing customers the answer, prices, questions you require.
2) Pay on per call basis, only if you get a valid call (We don't charge for spam calls!).
Gain a deeper understanding of your clientele and their needs
With DsPro's team of professionals, you will always be up to date with your industry's standards. Our call center operators are trained to know the ins and the outs of the electrician service business just like you do! We will provide you with regular reports to help you gain a better understanding of your clientele and grow your business!
Have top of the field technology
What makes us unique? We pay close attention to the latest trends in the call center services industry and constantly develop and improve new software's to service our clients better! Our software allows you to assign specific electricians to specific jobs, determine their work hours, give one electrician priority over the other and much more!