Air Duct Cleaning
Air duct cleaning is a complicated process and the market is just as intricate. If you gain customers' trust once, they become your client for life. Which means that if you lose the client once, you're losing more than just one singular opportunity to make money: you're losing regular income.
Since we've established that the key to your success is a great first impression, let's talk about how to make one. Imagine this: you (or one of your technicians) are cleaning the air ducts. We all know how loud high-efficiency particulate air vacuums are: if a client calls you while you're working, you most likely won't even hear it. So you let it go to voicemail. Result? A client lost. No, they won't leave a voicemail. Who even likes talking to an automated response system?
That's where we come in. DsPro is a top provider of flawless call center experience for small businesses. Our team of dedicated professionals work 24/7 to answer any questions your clients may have.
You need our call center services if:
You're often busy on the job site and don't have the time to answer the calls
You want your calls answered in efficient, professional and effective manner
You want your calls answered 24/7, even on holidays
Here's what we do:
At DsPro, we understand that every business is different and has its specific needs. DsPro's dispatchers always know the best way to approach your cases and provide your customers with polite, efficient and informative service. We know that every business has a different method of approaching the cases. With us, you call the shots! Tell us what information you need from your client and what our operator should do after receiving it. We provide a dedicated team for you, to guarantee you peace of mind!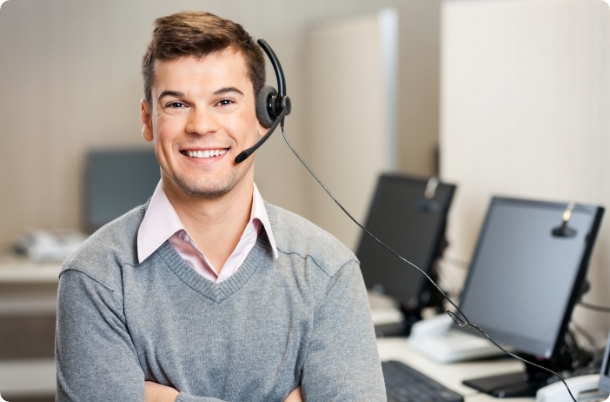 With DsPro, you will
Offer the best possible call center service for your business:
You can choose the service package best suited for your needs:
1) have your own office and team, that can be trained to work the way you need to, providing customers the answer, prices, questions you require.
2) Pay on per call basis, only if you get a valid call (We don't charge for spam calls!).
Gain a deeper understanding of your clientele and their needs
With DsPro's team of professionals, you will always be up to date with air duct cleaning standards and know exactly what your customers are looking for. Our dispatchers will always know how to conduct the conversation so that you leave no client unsatisfied. We will send you regular reports of all your calls, which will help you plan ahead. Based on our reports, you will know when you need to invest in more equipment or hire more employees, to grow your business faster.
Have top of the field technology
What makes us unique? We pay close attention to the latest trends in the call center services industry and constantly develop and improve new software's to service our clients better!